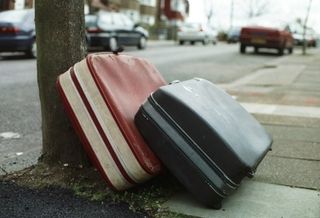 You're getting ready to go on a vacation and just pulled your suitcases from the closet or basement only to find they're terribly musty; should have aired them out before you put them away after your last trip!
There's a good tip for how to clean musty smelling luggage, however, and the good news is that it's totally frugal living friendly.
All you need to do is dilute one part white vinegar in four parts water and brush the solution in and around the suitcase. Of course, you shouldn't clean a leather suitcase in this manner, but you should be able to leave the suitcase to dry (completely!) once the vinegar-water solution has been brushed on. The best case scenario is the weather is glorious and you can put the suitcases outside to dry.
Then, when you come home from this vacation, remember to let your suitcases air out for a few days before packing them away again.
*Photo from Flickr, courtesy of Phineas H